Freightliner names electric loco in recognition of key workers.
On Thursday 30 July, Freightliner, a subsidiary of Genesee & Wyoming Inc. (G&W), named its newly acquired and liveried electric locomotive 90014 'Over the Rainbow' in recognition of key workers.
Freightliner wanted to acknowledge the sustained effort of key workers throughout the last four months and to also recognise the vital role they will continue to play long after the pandemic subsides. Naming the locomotive 'Over the Rainbow' will serve as a reminder of the incredibly valuable contribution key workers have made across many sectors.
The locomotive naming ceremony took place at Freightliner's Vehicle Maintenance Facility in Crewe. Due to social distancing, attendance was limited primarily to local staff. The Mayor of Crewe, Councillor Benn Minshall also attended the naming event.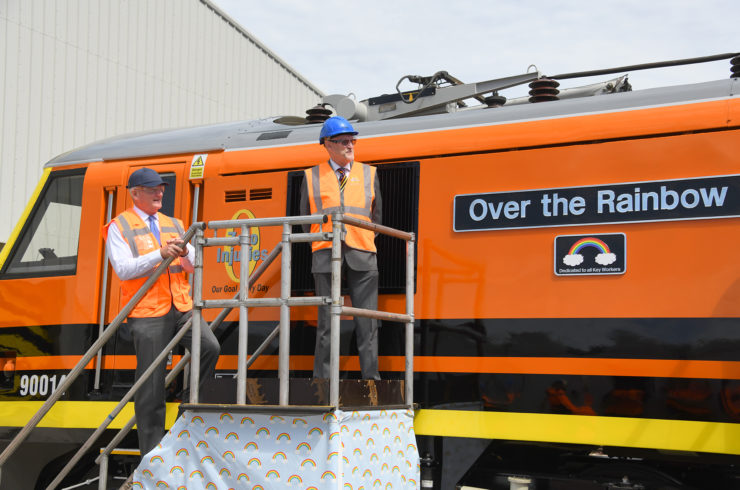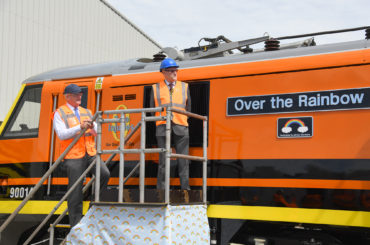 Following an address by CEO Gary Long, the name plate was unveiled by Freightliner Train Planner, David Clay who was the winner of a staff competition to name the Class 90 locomotive.
"We wanted to recognise the tremendous effort of all key workers and, in particular, those in the transport and logistics industry," said Long. "We are all having to deal with the daily challenges of the COVID-19 pandemic, but none more so than the key workers who continue to transport vital medical supplies, goods to keep supermarket shelves stocked and other services to keep our country running during these unprecedented times."
90014 is the second Class 90 locomotive to be repainted in the G&W livery. Freightliner has recently acquired 13 class 90 locomotives from Porterbrook Leasing to complement its existing 10 locomotives. They operate using the 25k overhead line supply, reducing the dependency on diesel traction and contributing to making rail an even more sustainable and carbon-neutral mode for transporting freight. Rail freight is already producing 76% less carbon per gross tonne mile than road freight, and Freightliner is the largest user of electric locomotives to haul freight. The expansion of the electric fleet helps to improve that footprint further. Some of the locomotives will replace the ageing class 86 fleet which will be retired from service until they can be overhauled and re-introduced as Freightliner expands its electrically hauled services.
"We thought that naming an electric Class 90 locomotive was appropriate as we look forward to the decarbonised future of freight movements," added Long. "Freightliner has increased its fleet of Class 90 electric locomotives and is at the forefront of other initiatives aimed at reducing carbon, such as trialling longer trains. Investing in green transport infrastructure is vital to underpinning Britain's future economic potential and its commitment to tackling climate change as well as meeting Government's decarbonisation targets."